Supporting Those Who Fuel Our World
If there's one industry that defines hazmat transportation, it's oil and gas. From the smallest samples sent for testing to the biggest shipments that crisscross the planet, everything you move has to meet the strictest regulations. We're here to help with the solutions you need to:
Stay compliant with the latest from DOT, FRA, PHMSA and FMCSA
Ensure every non-bulk shipment has the proper packaging, labels and mark(s)
Maintain compliance across multiple modes of transportation
Some of the biggest names in oil and gas trust Labelmaster every day to help them keep their shipments safe and compliant. What can we do for you?
---
Oil and Gas Industry Supply Chain Logistics

Image Source: Vigilance Group

There are 3 primary segments to the Oil and Gas industry supply chain all requiring some form of safe hazardous matierals transportation that may include marine tankers, rail tanks, or tank trucks.
Upstream: The first oil and gas industry segment is the Upstream which includes exploration, research, field development, and recovery and production of crude oil or natural gas from underground or marine locations.
Mid-Stream:The second segment is Midstream. Midstream operations include transportation, processing, storage, and distribution. The primary function is getting the crude oil or natural gas to refineries and then working with supply and demain channels.
Downstream:The final segment is Downstream operations, including manufacturing, refining and processing, distribution and trading, wholesale and marketing, and delivery to the consumer end user.
---
How the Oil and Gas Industry Ships Hazmat – Products You Need
Whether you need Dangerous Goods products to ship your hazmat, training, regulations, packaging, or labels, placards, and markings Labelmaster has it all... and most of it ready to ship next day. From hazmat labels and UN certified packaging, hazmat placards and regulatory publications, to advanced technology and regulatory training, Labelmaster's comprehensive offering of industry-leading software, products, and services help customers remain compliant with all dangerous goods regulations, mitigate risk and maintain smooth, safe operations.
Order your oil and gas products today!
---
Carrier Approved DG Shipping Software – Saves You Time
Labelmaster's Dangerous Goods Information System (DGIS) makes hazmat shipping as easy as non-regulated shipping. Say farewell to fines and returned shipments. Stop wasting time with indecipherable regulatory manuals. Boost your efficiency and your bottom line with DGIS — the industry's most robust, flexible, and advanced hazmat shipping software.
Here's how long it takes to prepare a Dangerous Goods shipping declaration:
If you are in the oil and gas industry, you are possibly having to ship DG on a regular basis. DGIS can help save you time and money. DGIS is easy-to-use, validate you shipping data against the latest regulations, and makes your entire operation more efficient - reducing fines and delays. Get DGIS today and ship DG with confidence!
---
Let Labelmaster Services Help You Solve Your DG Problems
Get expert knowledge, years of experience and a healthy dose of peace of mind. From navigating ever-changing regulations to leveraging regulatory exceptions to giving practical customized advice, Labelmaster Services handles every detail for compliant, efficient and stress-free DG shipping.
Labelmaster Services helps you:
Keep up with changing regulations, carrier policy changes, guidance/insights gleaned from regulatory bodies
Increase confidence DG compliance across organization through site visits
Gain compliance confidence in your operations should you be audited by the DOT or FAA
Gain confidence that training content not only adheres to regulations but also ensures that outcomes add real business value
Accurate and reliable parts identification and classification data to ensure safe and compliant DG shipping and handling
Other services we offer include special permit applications, penalty remediation support, general regulation interpretations, on-premise oversight of DG packing & labeling, advise legal teams on violations/mediations, and act as a witness expert during legal proceedings
---
Labelmaster Oil and Gas Resources
Your source for important industry information.
It's a challenge to keep up with all the do's and don'ts of DG shipping. But we're making it easier than ever to find the resources you want and get the answers you need. We've compiled the industry's most comprehensive set of information to help you stay compliant.
We have so many resources for our Oil and Gas Industry. Here is our top 10 oil and gas resources, then go see the full list of oil and gas resources.
UN 1267 — Petroleum Crude Oil
A complete list of hazardous materials information concerning labeling and placarding for UN 1267, Petroleum Crude Oil. Also included are DOT regulations for Class 3, Emergency Response Guidebook information for UN 1267, DOT hazmat table information for UN 1267, and hazardous materials segregation table information. This is a very comprehensive list of chemical information for UN 1267.
DOT Hazmat Labels, Placards, and Markings Guide
Labels, placards, and markings are indispensable compliance products. Adhering to stringent regulatory standards, Labelmaster offers a multitude of options designed to help you comply with hazmat regulations. Choosing the correct labels and placards is vital for the safe handling and shipping of hazardous materials.
Spacemaster Flip Placards
A flip placard is a metal placarding system that allows you to change the DOT placard legend. Some flip placard systems also allow you to change the UN ID numbers to match your dangerous goods - hazmat commodity. Self-contained, these aluminum alloy placard panels slide over easily on aluminum hinges and use strong secure clips to lock the panels in place during your haul.
Placard Finder
Labelmaster has the original Placard Finder. Labelmaster has every placard you need for domestic and international shipments in stock or imprinted and shipped in three days. Labelmaster's Placard Finder helps you find the placards you need. Order you placards from Labelmaster today!
Emergency Response Guidebook
The ERG is the ideal guide to help when responding to transportation emergencies involving hazardous materials. It is a must-have for everyone who handles and transports dangerous goods and hazmat. This guide helps your company comply with the DOT 49 CFR 172.602 requirement that hazmat shipments be accompanied with emergency response information. The Emergency Response Guidebook is updated every 4 years - The next edition will be published in 2020 - When the time comes, don't be caught with the outdated 2016 or 2012 ERG.
Transportation and Logistics Industry
Our teams of experts and hands-on Dangerous Goods professionals make Labelmaster the acknowledged resource for the transport industry. We help you save time and stay compliant with placarding systems, labels and packaging, select exactly the right packaging and labeling to keep every shipment compliant, and stay current with the latest regulatory news from DOT, FRA, PHMSA, FMCSA, and other transportation related regulatory bodies.
Automotive Industry
Many automotive components are actually regulated hazardous materials—which is why so many automotive companies trust Labelmaster's deep experience and expertise in Dangerous Goods. We help you select exactly the right packaging and labeling to keep every shipment compliant, determine which products are regulated and which aren't, and keep current with the latest from DOT, FRA, PHMSA and FMCSA.
DG Infographics
Labelmaster has been the go-to source for companies – big and small – to navigate and comply with the complex, ever-changing regulations that govern dangerous goods and hazardous materials. Labelmaster has produced many of the industries best dangerous goods and hazardous materials infographics. You name the topic and we probably have the infographic for you.
Master Series Videos
Moving Dangerous Goods (DG) can be a complicated journey with myriad rules and regulations. We're here to help. With our finger on the pulse of the DG industry, we believe that all businesses handling DG could use some practical, honest guidance. Given that DG is moved 1.4M times each day in the U.S., there's nothing more important than the safe and compliant transportation of these items. Whether you're new to DG shipping or a seasoned veteran, we hope you'll find the information in these videos useful
Global Dangerous Goods Confidence Outlook
The third annual Global Dangerous Goods Confidence Outlook is the definitive outlook for the worldwide dangerous goods industry based on the thoughts and attitudes of DG pros across the globe. In an effort to better understand today's DG landscape, Labelmaster, IATA, and Hazardous Cargo Bulletin partnered to survey DG professionals around the globe about how their organizations approach DG shipping and handling and the specific compliance challenges they face.
---
The Labelmaster Blog
Stay up-to-date on the latest oil and gas industry news.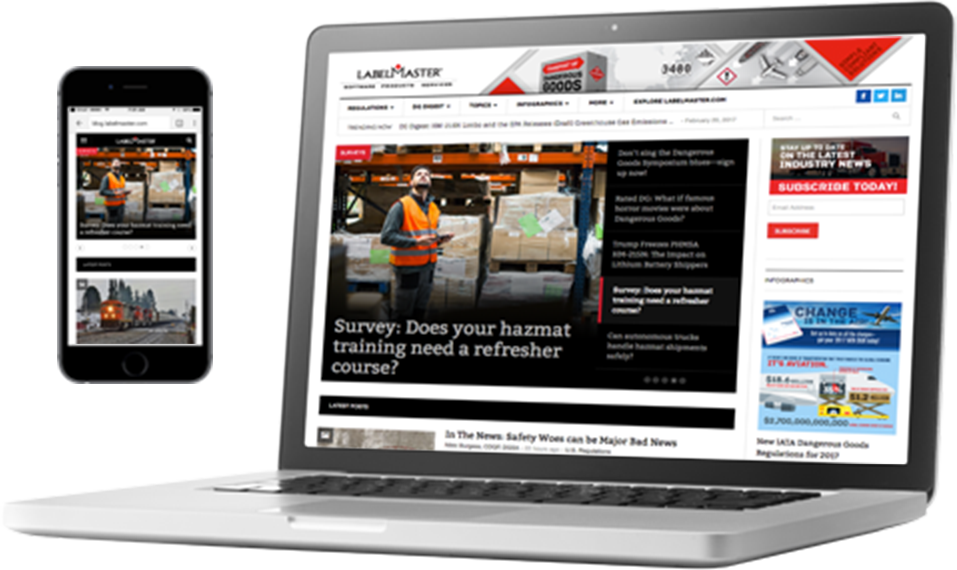 For more than five decades, Labelmaster has been the go-to source for companies – big and small – to navigate and comply with the complex, ever-changing regulations that govern dangerous goods and hazardous materials. Labelmaster is your partner in keeping your business ahead of regulations and compliant every step of the way. The Labelmaster blog helps you keep up with constant changes in the regulatory landscape. That is why so many shipping managers, DG trainers and other hazmat pros subscribe.
Oil and Gas Industry News
Articles from Around the Oil and Gas Industry
Weekly DG Industry Blog Articles